The second book in the Slayers MC Series, Hard Ride, is now available!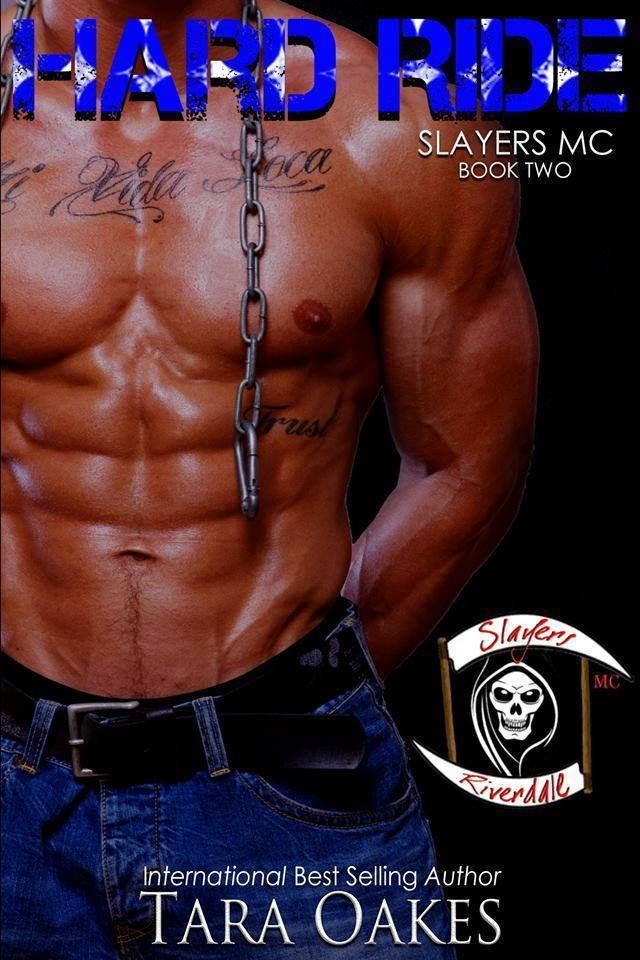 ** Warning: this book is intended for those over 18 yrs old due to violent, sexual, and mature content. **
Dawson McCade, president of Riverdale chapter of The Slayers MC, has everything under control for the moment, although he knows it could change in an instant. The Conquistador drug Cartel is being held at bay thanks to the last minute kidnapping of the Cartel leader's daughter, Caterina Jimenez. Dawson knows they're nipping at his heels, though, just waiting for the opportunity to strike. It's up to him to think ahead and find a way to make this temporary truce between them last... otherwise it'll be an all out war. One Dawson has doubts about winning. He has a brand new Ol' lady, Molly aka "Angel" and a new family to protect. He has more than enough to lose if things don't go how he needs them to. It's up to Dawson and the club's enforcer, Chase Barrett, to find a way to keep everyone and everything that they love safe from the Cartel. What happen's if one of the very things the Cartel is after, is the one thing Chase discovers he isn't willing to give up?
Caterina, "Cat, Jimenez is the twenty-three year old daughter of one of the most powerful drug Cartel leaders in Mexico. She hates the life she's been born into, hates everything about the power and wealth her family has amassed. Convincing her family to let her study Medicine across the border in Texas was her way of escaping the life that threatens to claim her just as it had her mother. She had done what she thought she'd never be able to... to be free. That is, until she's swept up and taken in the middle of the day on her way to class by a rough and tough biker named Chase. He says he'll let her go. He says she's not in any danger, but she knows better. She knows not to trust men like this, having seen first hand what they're capable. So, she does the only thing possible. Cat sets in motion a plan to escape her captor. using her feminine charms to seduce and trick him, waiting for the perfect moment to make her move. Cat has no idea how much is riding on her, how much depends on Chase being able to keep her. They're both about to find out, in HARD RIDE, book 2 in The Slayers MC series, meant to be read in order following book 1, FIRST RIDE.
You can now purchase Hard Ride on Amazon
Dawson may have everything under control and trying to make a life with his new girl Molly, but when Cartel trouble puts his club and livelihood in danger, certain things WILL have to happen. But when his plan to kidnap the daughter of the Cartel's Kingpin doesn't get the reaction he wants, Dawson leaves the MC's enforcer to do the job.

Chase never thought that babysitting someone would be so dangerous, but Caterina is making his life miserable. Yes, she is nice looking and has a body to die for but with the constant escape attempts and physical violence she directs towards him, Chase is rethinking this whole job. But when Dawson gives him a direct order to "Get Close" to Cat, he has no choice but smile and try and play nice. But who would have thought that he would start to feel something for the feisty Latina.

Caterina Jimenez hates her father and couldn't wait to get away from him but this was not her plan. She wanted to go to medical school, start over somewhere new but when the sexy enforcer put a kink in her plan. Yes she may fight him a little but not for the reason he may think. She wants far away from her old life and decides with a little help from her new friend, she just maybe be able to "Get Away". But falling for her captor wasn't in her plan, can she get away from her father and still make it with her sexy enforcer.

This story has alternating POV's and follows two couples (Dawson & Molly / Chase & Cat). T
his is Book #2 of The Slayers MC series, however it does give the reader enough backstory to read this as a stand alone.The plot is great and actually is a quick read. I found myself starting it and then the next thing I know I was at 75%. The major conflict was not fully detailed but I much rather reading about the couples and their drama, than how a Kingpin went down. I do know that I am now going back to read book #1 so I can get a full understanding of Dawson's backstory.


Great Read and Great Series...... 4 Stars!
~ REVIEWED BY SHERI ~
More About Tara Oakes
Tara is a thirty something newbie author from Long Island, New York. She's a voracious reader, a passionate writer and obsessive junk T.V. aficionado. When she's not doing one of those three things she is attempting to garden, hanging with her hubby or partaking in some retail therapy. She enjoys connecting with her readers and is having a blast entering into this new world of publishing.
Twitter: https://twitter.com/Lil_Oakes
Amazon: http://www.amazon.com/Tara-Oakes/e/B00N71SH18/ref=ntt_athr_dp_pel_pop_1
Facebook: https://www.facebook.com/pages/Tara-Oakes/1468537190061965?ref=hl
Goodreads: https://www.goodreads.com/author/show/8390968.Tara_Oakes
Website: https://www.authortaraoakes.com
Newsletter Sign-Up: https://docs.google.com/forms/d/193TYpuqLhzP9opN5WUqz3VeQnoNaURPw6mMB68108W4/viewform